Many of our plays are inspired by real stories from our seniors, but how do we further develop them into script and performances? It starts with an image.
From hearing the story, the facilitators or directors begin to envision an image in their minds. The director will then take any available bodies in the room to begin sculpting the image they see. Layers of details such as sounds, mood and environment are then added to create a physical picture of the once verbal story.
As it develops, the story in some ways becomes less personal and more universal. Members of the cast begin to find ways to make the story their own: developing characters, depicting their understandings of the experience while honouring the essence of the original story. There is usually a narrator that takes everyone on the journey, but sometimes we discover that its more effective to have multiple narrators.
This blog will highlight some of the research involved in developing our current work-in-progress play: Trains.
One of our story takes place in Finsbury Park Train station during the Second World War in London.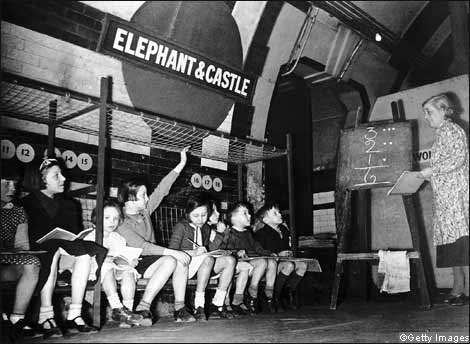 The air raids prompted a siren to alert Londoners to go into the tunnels. There was another siren alerting the citizens it was safe to come out again. Here is a clip of the two sounds. We would mimic these original sounds with an actor's voice.
When the raids were over, this is awaited Londoners outside. How would you evoke this with a group of intergenerational actors?